It's Rhubarb Time! Because good things come in threes: Asparagus, Strawberries, and Rhubarb share the same season, from April until the 24th of June. So Oma (Grandma in German) has requested a simple rhubarb cake which she used to make often for the family.
This is one of the easiest ways to cook rhubarb: make a simple yeast dough, fill it with chopped rhubarb mixed with sugar and top it with some crumbles (Streusel). We call this Rhabarber Streuselkuchen in German, so a "Rhubarb Crumble Cake". Grandma used to make 2 cakes each time she was baking and freeze one for later consumption.
The following recipe is for a Ø 26 cm springform rhubarb cake. For an oven tray you can double the ingredients.
Ingredients for the yeast dough:
250 g all-purpose flour
100 ml of milk
50 g soft butter
15 g fresh yeast
30 g caster sugar (2 tbsp)
1 egg
1/2 tsp salt (2,5g)
1/2 sachet vanilla sugar (1 tsp = 4g)
lemon zest of half a lemon (optional)
Ingredients for the rhubarb filling:
500 g rhubarb
2 tbsp sugar (30g)
1 pinch of cinnamon (optional)
1 tbsp starch (optional)
Ingredients for the crumble (Streusel):
150 g all-purpose flour
100 g caster sugar
100 g cold butter
1/2 sachet vanilla sugar (1 tsp = 4g)
1 pinch of salt
For the yeast dough, mix the flour with the salt, make a hole in the middle and add the yeast, half of the sugar (1 tbsp), milk, and cover it with some flour from the side and let it proof for about 5-10 min. It's ready when the yeast has formed some bubbles and started to rise.
Add the remaining sugar, vanilla, egg, and butter and knead it until you have a nice smooth dough. When using a kitchen machine, it may take about 10-15 min. It's ready when it doesn't stick to the bowl. You may need to add 1 tbsp of flour if it seems too soft but do not add more than this.
Let the dough rise for about half an hour.
Wash the rhubarb, cut the ends and peel it if you have big stalks. Check out here how to peel and cut rhubarb.
Cut the rhubarb in about 2 cm pieces and mix it with the sugar and cinnamon.
Prepare a Ø 26 cm springform tin. You can either butter it or use a baking sheet.
Press the dough to eliminate the air bubbles and flatten it in the springform. You should also have a 1 cm edge. You can either use your hands or a roller pin.

Add the rhubarb on top of the dough and let it rise for another half an hour. Oma also brushes the yeast dough with a little bit of cream or milk so it sticks better. Additionally, you can first mix the rhubarb with 1 tbsp starch and you will get the consistency of a pudding.

Preheat the oven at 200°C/392°F.
Make the crumble (Streusel) by mixing all the ingredients together. Do not overmix so the butter doesn't start to melt.
Add the Streusel on top of the rhubarb and put the cake in the preheated oven.

Bake for about 20-25 minutes.
Let it cool down for a few minutes before taking it out of the tray.

You can serve it with cream and, of course, a nice cup of coffee.
This is one of the basic recipes for rhubarb crumble, Oma's Rhubarb Cake. While this recipe with a yeast dough as a base is Oma's favorite, I prefer the Strawberry Rhubarb Pie, with Mürbeteig (German shortcrust pastry). You can use this yeast base and the filling from the strawberry rhubarb pie. Other delicious versions are with meringue on top or with Rührteig (a type of sponge mixture) as a base for more fluffiness. Feel free to adjust the quantity of rhubarb to suit your taste or experiment with different combinations.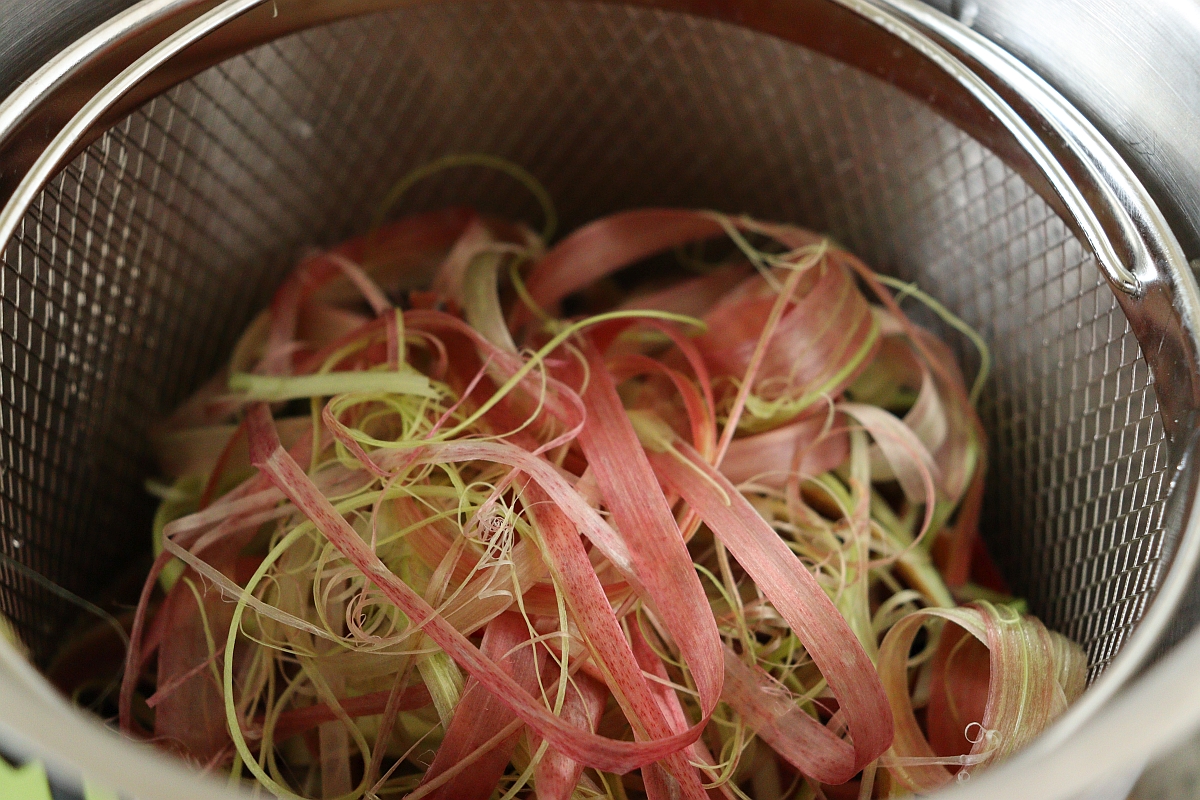 Do not throw away the peel of rhubarb. You can add water enough to cover it, boil it for a few minutes with some sugar and spices like cinnamon, anise, ginger, lemon peel, and lemon juice. After cooling it down you will get a nice fresh rhubarb lemonade.
You can find more rhubarb recipes here.