Zwiebelkuchen – Onion Pie
We are opening the wine season with must (young wine) and onion pie. This combination is so delicious and always appreciated by my family.
What is Zwiebelkuchen though? The name Zwiebelkuchen comes from German where Zwiebel means onion and Kuchen means cake. So Zwiebelkuchen can be translated as onion cake or onion pie which is actually not a sweet dessert but a savory pie, similar to quiche Lorraine. The base is made of yeast dough, with a generous onion filling and topped with small bacon pieces. For the vegetarian version, you can remove the bacon. If you can't eat eggs, you can remove them from the filling and in the yeast dough replace the egg with 50 ml of milk. It will still be tasty.
One of the most loved recipes is the Swabian Onion Pie (Schwäbischer Zwiebelkuchen). The following recipe is for a Ø 26-28 cm springform Onion Pie. For an oven tray, you can double the ingredients.
Ingredients for the yeast dough:
250 g all-purpose flour
1 egg (M for Europe, L for US)
75 ml of milk (125 ml of milk if you don't want to use an egg)
50 g soft butter
15 g fresh yeast
15 g caster sugar (1 tbsp)
1/2 tsp salt (2,5g)
Ingredients for the onion filling:
1 kg onions
3-4 eggs (leave them out if you don't want to use eggs)
200 ml cream (you can also use sour cream)
50-100 g bacon (cut in small pieces)
50 g butter
50 g flour
salt, pepper
a pinch of nutmeg (optional)
Ingredients for the topping:
50 g bacon (cut in small pieces)
caraway seeds
butter flakes (about 25 g)
For the yeast dough:
Mix the flour with the salt, make a hole in the middle and add the yeast, sugar, and milk, cover it with some flour from the side and let it proof for about 5-10 min. It's ready when the yeast has formed some bubbles and started to rise.

Add the egg and the butter and knead it until you have a nice smooth dough. If you don't want to use an egg, you can replace it here with 50 ml of milk so you will use in total 125 ml milk for this yeast dough. When using a kitchen machine, it may take about 10-15 min. It's ready when it doesn't stick to the bowl. You can add 1 tbsp of flour if it seems too soft and sticky.

Let the dough rise for about half an hour in a warm place until it doubles in volume. If it's cold in the room, more time will be needed.
For the onion filling:
Cut the onions in small cubes.
Sautée the bacon pieces without any fat to develop the aroma. If you can't eat meat, you can simply skip the bacon. Set them aside. If you're in a hurry or lazy, you can skip sauteing the bacon and add it as it is to the filling. However, you still need to saute the onions.


Add the butter to the pan and sauté the onions until they become shiny and somewhat soft. Do not brown them. Turn off the heat when they're done.

Add the flour and the bacon which was set aside, mix, and let it cool down.

Preheat the oven at 200°C/392°F.
Meanwhile, you can roll out the dough, line it in a pan, and let it rise for another 15-20 minutes.
Add cream or sour cream, salt, pepper, and nutmeg to the filling.
Beat the eggs a few times and add them to the filling. Simply leave them aside if you don't want to use any.
Pour the filling on top of the yeast dough which was lined in the pan and sprinkle caraway seeds on top.

Add pieces of bacon, and butter flakes on top.

Bake it for about 40 minutes at 200°C/392°F.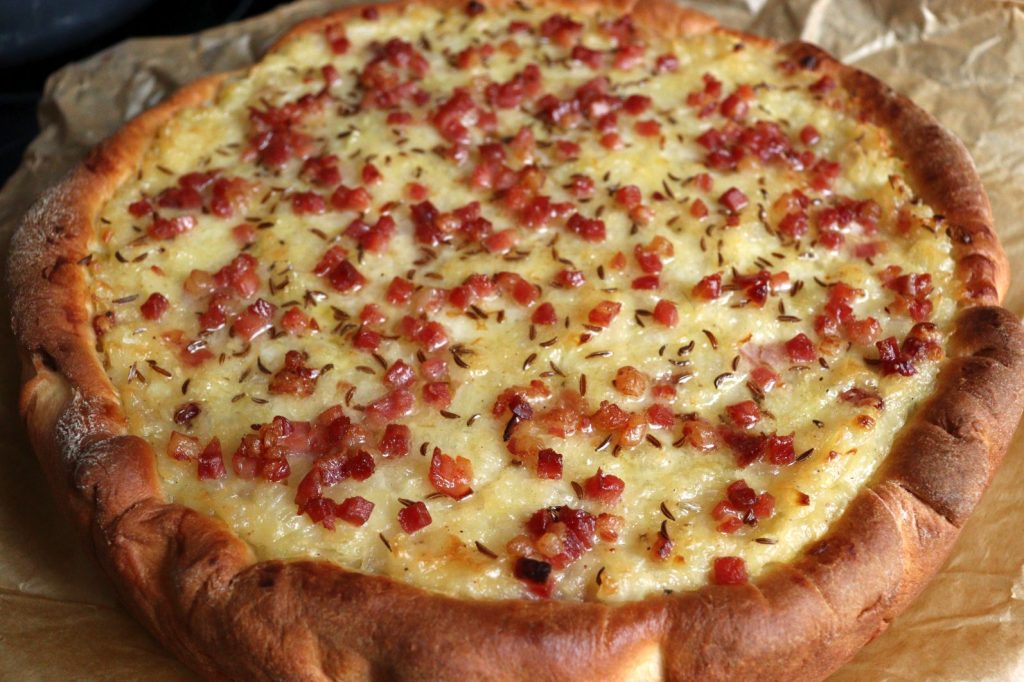 You can serve this savory onion pie warm or cold, with must (young wine) aside. When taken out from the oven, you need to let it cool down for at least a few minutes if you want to have nicely cut pieces. We usually serve it hot because it smells so good and nobody wants to wait.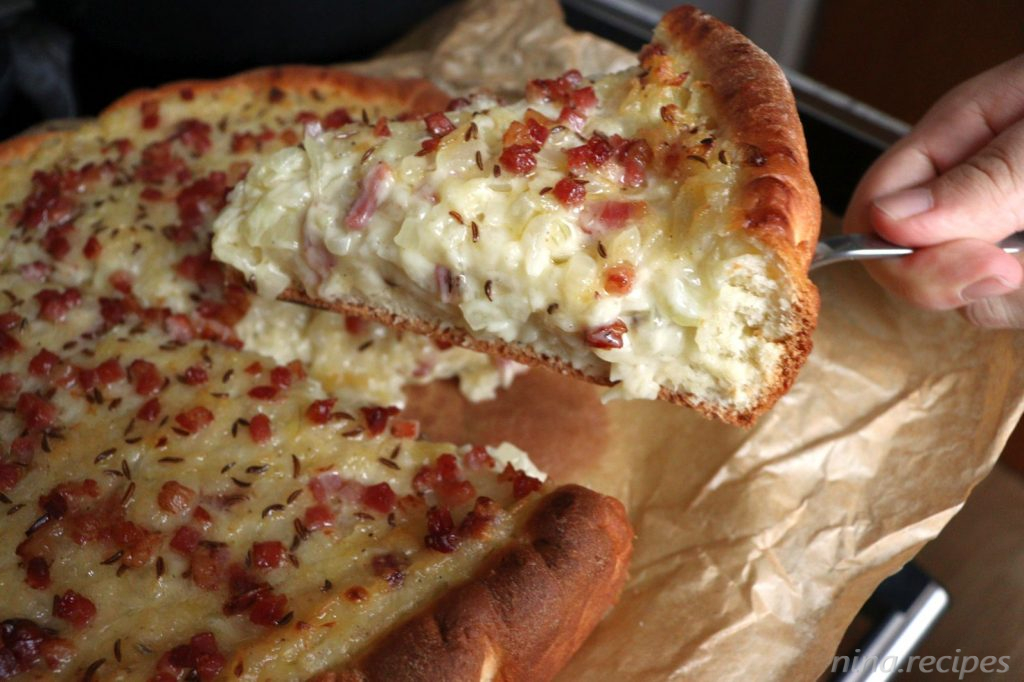 Here is a piece from last year's Zwiebelkuchen which was served cold so it kept its shape nicely: