Rustical Mascarpone-Strawberry Shortcake
A mascarpone strawberry shortcake is one of the easiest cake you can make: just bake a simple Biskuit (sponge cake), lightly brushed it with syrup and filled it with strawberries and a rich mascarpone cream. You don't need any baking powder for the sponge layers, nor gelatine for the cream to keep its shape, thanks to the mascarpone.
It's so delicious and there's nothing left for the next day. It's really an easy to make cake which looks and tastes amazing. You don't even need to invest a lot of time in decorating it. Here is how I make it:
Ingredients for the Biskuit (sponge cake) – 26 cm:
7 eggs (M size for Europe, L for America)
210 g caster sugar
210 g all-purpose flour
35 g butter
35 g milk (I weight it together with the butter)
1 pinch of salt
1 sachet vanilla sugar (8 g) or 1 tsp vanilla extract or any other flavor of your choice
1 tbsp Waldmeister (sweet woodruff) liqueur, cherry brandy (Kirschwasser), rum or any other alcohol of your choice (optional)
Ingredients for the cream:
500 g mascarpone
600 g whipping cream
1 sachet vanilla sugar (8 g) or 1 tsp vanilla extract
100-150 g caster sugar
Mix everything until you get the consistency of a cream that should keep its shape. Keep it in the fridge until you need to use it.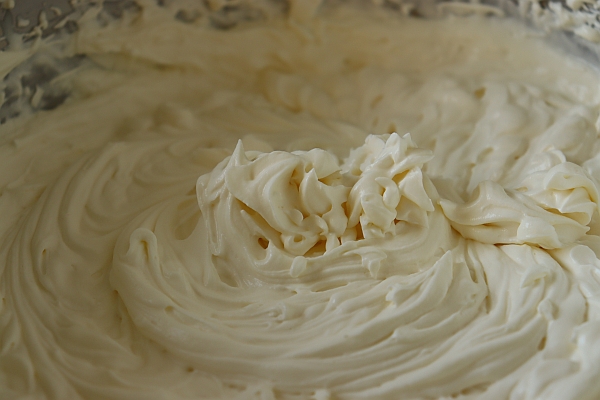 You will also need 750 g fresh strawberries: 500 g cut in smaller pieces for cream and 250 g cut in halves for top.
Syrup:
150 ml hot water
75 g caster sugar (5 tbsp)
1 tbsp Waldmeister liqueur (optional) – replace it with some flavor (ex. vanilla) when you can't have alcohol in your cake.
Mix the hot water with the sugar and alcohol/flavor until the sugar is dissolved and let it cool down completely.
Preheat the oven at 180°C/356°F (no ventilation).
Prepare a pan with 26 cm diameter: butter it and flour it so it doesn't stick. You can also use baking paper.
Melt the butter in the milk. I like to put the milk and the butter in a small bowl and melt it on a water bath by putting boiled water in a bigger bowl and this one inside. You can also melt it in the microwave.
Separate the egg whites and beat them with a pinch of salt until soft peak.

Add the sugar, vanilla, and alcohol (optional) and continue mixing until the egg whites keep their shape. You can mix the egg whites directly with the sugar if you have a kitchen robot but it will take a little longer. If you only have a whisk it is better to beat them separately because it's faster. I like adding 1 tbsp of 80% rum in my sponge cake. Here I used self-made Waldmeister liqueur since I really love the flavor and I was going for something a little bit herbal. Just leave it out if you don't like the alcohol or you can't have it in your cake.

Add the egg yolks and mix gently till incorporated.

Sift the flour on top and gently incorporate it with a spatula (folding). Do not over-mix!

Add the melted but cold butter and milk and gently incorporate it with the spatula.

Pour the batter in the prepared pan and bake it at 180°C/356°F (no ventilation) for about 35 minutes. You can check when it's done with a toothpick inserted in the middle. If it comes out clean, the cake is done.

Let it cool down for few minutes, remove it from the pan and rest it on a rack.

You will get a 4-5cm high Biskuit (sponge cake), very fluffy, and slightly moist. Look how perfect it is!

Assembly:
Cut the Biskuit (sponge cake) into 3 layers. Look how fluffy they are:

Cut 500 g strawberries in small pieces.
Soak the first layer (which was at the bottom) with some of the cold syrup. This layer will get the most syrup since it's at the bottom and it is the hardest from all the layers. If your top layer is not equal, you may exchange the layers.
Add a thin layer of cream.

Cover it with half of the strawberries and with another thin layer of cream.

Add the second layer (middle layer) and lightly brush it with syrup. This layer should have the least of the syrup since it's quite thin but fluffy and placed in the middle of the shortcake so you want it to keep its shape.
Add a thin layer of cream, the remaining cut strawberries, another thin layer of cream, and the last layer on top.
Soak the top layer with the remaining syrup, add the remaining cream and decorate with fresh strawberries and/or fresh mint leaves.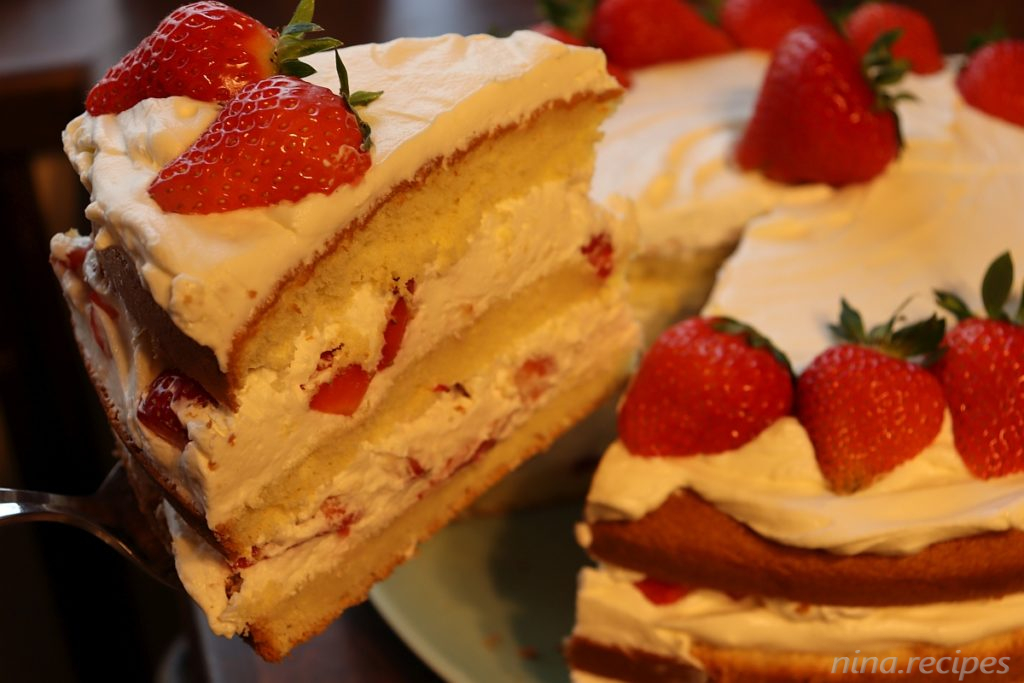 That's it. It takes longer to write the recipe than to make the cake. Since it doesn't have any gelatin or other ingredient to keep the cream's structure, you should eat the cake on the same day. The second day it's still fine but will not look so appealing. You can skip the syrup part in order to get a cake with more structure but I find the delicate flavor of it very nice. The cake will still taste amazing thanks to the fluffy sponge cake (Biskuit).