German Sponge Cake (Biskuit)
What is a Biskuit (German Sponge Cake)?
A Biskuit (also called Biskuitboden in German) is a sponge cake: a light cake made with eggs, sugar, flour, and sometimes a little fat (vegetable oil or melted butter). It is usually leavened with beaten eggs so no baking powder is needed. This type of cake mixture is called Biskuitmasse in German.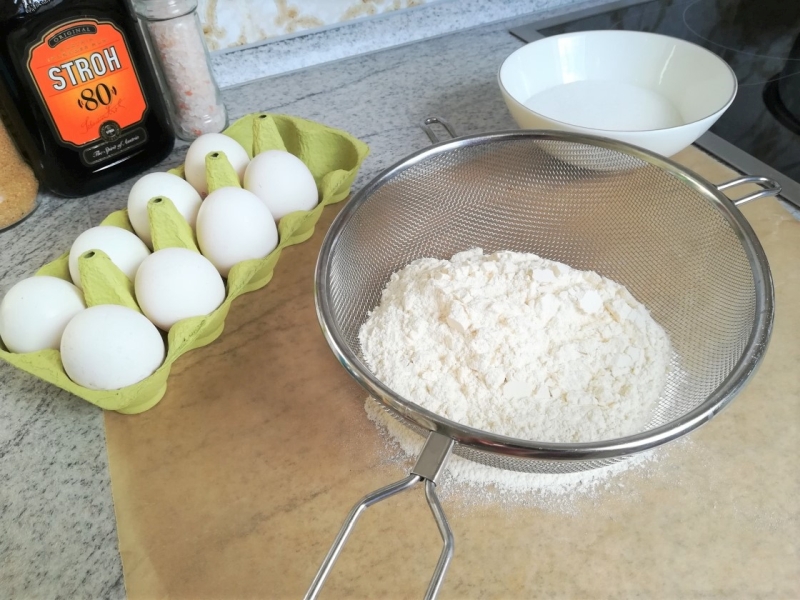 Here is the version I'm usually making.
Ingredients for the Biskuit (sponge cake) – 26 cm:
7 eggs (M size for Europe, L for America)
210 g caster sugar
210 g all-purpose flour
1 pinch of salt
35 g butter (optional)
35 g milk (optional)
1 sachet vanilla sugar (8 g) or 1 tsp vanilla extract or any other flavor of your choice (optional)
Preheat the oven at 180°C/356°F (no ventilation).
Prepare a pan with 26 cm diameter: butter it and flour it so it doesn't stick. You can also use baking paper.
Melt the butter in the milk. I like to put the milk and the butter in a small bowl and melt it on a water bath by putting boiled water in a bigger bowl and this one inside. You can also melt it in the microwave.
Separate the egg whites and beat them with a pinch of salt until soft peak.

Add the sugar and vanilla and continue mixing until the egg whites keep their shape. You can mix the egg whites directly with the sugar if you have a kitchen robot but it will take a little longer. If you only have a whisk it is better to beat them separately because it's faster. I like adding 1 tbsp of alcohol in my sponge cake, depending on the flavor I'm going for (80% rum, amaretto, kirschwasser = German cherry brandy, different liqueurs etc.). Just leave it out if you don't like the alcohol or you can't have it in your cake.

Add the egg yolks and mix gently till incorporated.

Sift the flour on top and gently incorporate it with a spatula (folding). Do not over-mix!

Add the melted but cold butter and milk and gently incorporate it with the spatula.

Pour the batter in the prepared pan and bake it at 180°C/356°F (no ventilation) for about 35 minutes. You can check when it's done with a toothpick inserted in the middle. If it comes out clean, the cake is done.

Let it cool down for few minutes, remove it from the pan and rest it on a rack.

You will get a 4-5cm high Biskuit (sponge cake), very fluffy, and slightly moist. Look how perfect it is!

Cut the Biskuit (sponge cake) into 3 layers and fill them with a cream of your choice.

I've made a delicious and fast Mascarpone Strawberry Shortcake.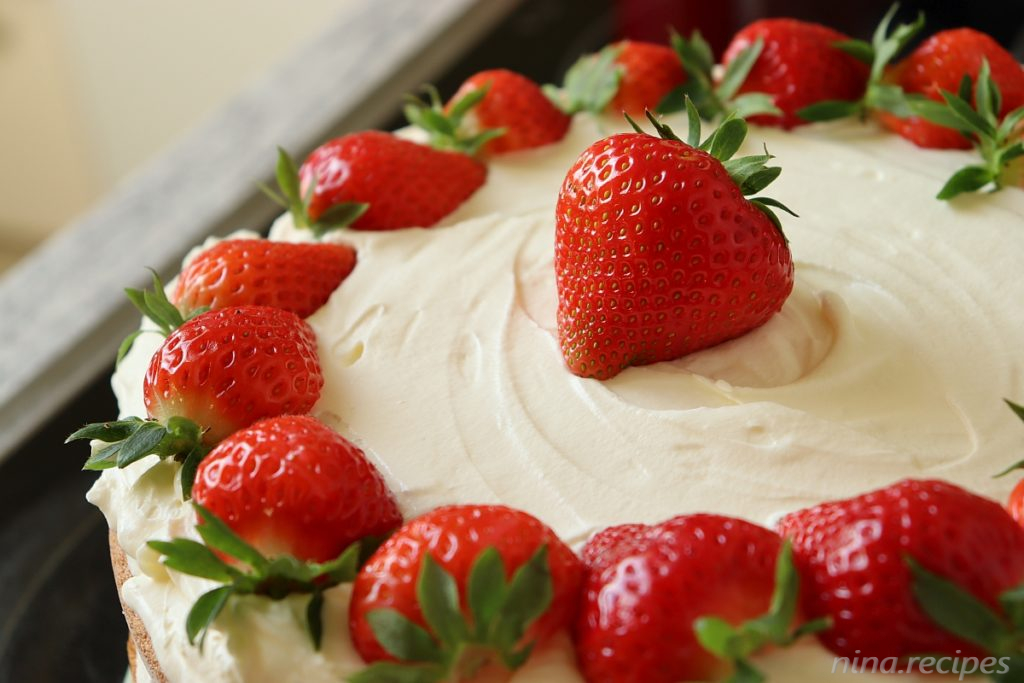 Check out the recipe for making a fluffy yellow/vanilla sponge cake with only 3 ingredients.