Christmas Stollen and Cookie Spice Mix
There's no Christmas without Stollen in Germany. This festive cake is loved by everyone, especially since there are many variants of it. From the famous Dresdner Christmas Stollen with raisins to Stollen with cranberries, almonds, marzipan, different dried fruits, butter milch, poppy seeds, nuts and so on, it's almost impossible to not find one to like.
In Germany you can buy Stollen Spice Mixes from any supermarket but you can also make it by yourself, to fit your taste. Main ingredients for Stollen Spice Mix are: cinnamon, cardamon and mace or nutmeg (the latter in smaller quantities), to which other spices could be added: ginger, galangal, coriander, cloves and, who likes it, star anise. Mace have a more delicate flavor so I prefer to use it. If you only have nutmeg, use a little less than written in the recipe since it tends to have a stronger flavor. I prefer adding fresh citrus and/or orange peel directly to the dough but you could also use the dried one in your spice mix. Don't forget about vanilla. It can be added either in the spice mix or directly in the dough.
Here is a basic recipe for making your own Stollen Spice Mix, with only 3 ingredients, plus Vanilla Sugar which can be mixed with the spices or added directly in the dough:
1/2 tbsp Cinnamon
1/2 tsp Cardamom
1/2 tsp Mace (Macisblüte) or Nutmeg
1 sachet Vanilla Sugar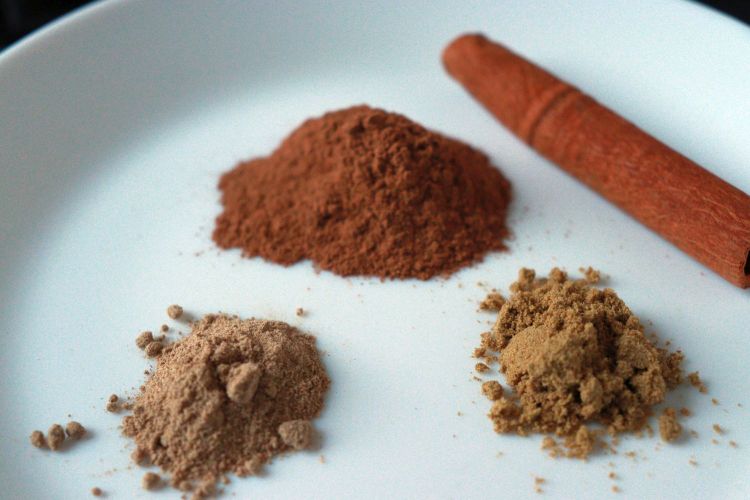 1 tbsp Cinnamon
1/4 tsp Cardamom
1/4 tsp Mace (Macisblüte) or Nutmeg
1/4 tsp Ginger or Coriander (use 1/8 tsp for each if both are added)
1/4 tsp Cloves (optional)
1/8 tsp Star Anise or Fennel (optional)
1 sachet Vanilla Sugar
You can use this spice mix for any type of Christmas cookies. By adding the sugar, it will not clump if you need to store it longer.