Christmas Stollen – Original Dresden Stollen Recipe
Stollen is a traditional German bread eaten during the Christmas season. It is also known as Weihnachtsstollen (Christmas Stollen) or Christstollen. It is made from a heavy yeast dough, to which candied fruits, almonds and spices are added. Other ingredients are raisins and marzipan.
Go to recipe Christmas Stollen Recipe – Dresden Style
Dresdner Christmas Stollen is probably the most famous type of Stollen, taking the name of the region it was first baked. Its history goes back to 1474, the first time it was mentioned in the chronicles.
What makes a Dresdner Stollen special? Besides the long tradition of baking this bread by specialized bakers who are certified every year, there are certain conditions to be met for a Stollen to be considered Original Dresden Stollen and get the official golden seal of quality:
The Stollen needs to be manufactured in Dresden and around it.
No artificial flavoring, additives or margarine is allowed.
The ingredients must include minimum (relative to the flour quantity):

50% fat (butter or clarified butter)
65% raisins
20 % Zitronat (candied lemon peel) and/or Orangeat (candied orange peel)
15% almonds sweet and bitter

The Stollen should not be baked in molds (it is rolled, hand formed and with a small cut in the middle).
Minimum weight is 500g.
Even though the ingredients are similar, every baker adds his own touch to the recipe, therefore every Stollen is unique.
This recipe is a classical Stollen one which everyone can make at home. I also included some replacements in case you can't find some of the ingredients. You can also replace the raisins with dried cranberries if you don't like them and let the almonds out if you have allergy to nuts (it may not be exactly the traditional recipe but it will still be delicious). Feel free to add your own touch to it. I bake this and some variants of it every year for my family, on the first or second Advent and eat it throughout the winter. It is important to store it in a cold place for at least 2 weeks before consuming, in order to get the best of it, though there are a lot of people who say that the fresh Stollen is the best. You can even start baking it in August or September and it will be perfect to eat in December.
Because the dough will be quite a heavy one, with a lot of butter, raisins and candied fruits, a pre-dough is needed to help with the raise.
Christmas Stollen Recipe – Dresden Style
Ingredients for the pre-dough (Vorteig):
125 g all-purpose flour
125 g milk
40-50 g fresh yeast
Make a hole in the flour and add the yeast in the middle.
Add the warm milk and mix it until incorporated. You should get a sticky dough.

Cover it and let it proof for about 45 minutes.

Ingredients for the stollen main dough:
300 g pre-dough (Vorteig)
375 g flour
250 g room temperature butter (NOT melted)
60 g sugar
1 egg
5 g salt (~1 tsp)
5 g Stollen Spice Mix (~1 tbsp)
Mix everything together till combined. It should take a few minutes.
Do not over-mix it because the butter will start warming up and combine with the flour.
Let the dough rest for about 30 minutes.
Fruit and nuts mix:
400 g Raisins or dried Cranberries
50 g Rum
100 g almonds (I use ground ones)
50 g Orangeat (candied orange peel): can be replaced with peel of an orange
50 g Zitronat (candied lemon peel): can be replaced with peel of a lemon
Soak the raisins or cranberries overnight in rum.
Extra (optional):
300 g marzipan (100 g for each smaller Stollen and 150 g for a bigger one)
Combining everything:
After the main dough has rested, add the mix and gently incorporate everything together.
From this quantity you can make either 3 x 500g Stollen or 2 x 750g Stollen. My smaller Stollen measures about 20 x 15cm.
Separate the dough into 2 or 3 pieces, roll it and form it by hand. You can either roll it or fold it with one side on top of the other.

Extra: in the middle of the Stollen add a roll of Marzipan.
Put the formed Stollen in the baking tray with baking paper under and let it raise until it doubles in volume. It may take about 45 min to 1 hour , depending on the room temperature.

Baking:
Preheat the oven at 200°C/392°F (no ventilation).
Make a small cut on top of the Stollen if you decided to roll it. No cut is needed if you fold it.
Bake the Stollen for about 45-50 min (for the 3 pieces) to 55 min – 1 hour (for the 2 pieces). You want to get a slightly brown crust. Do not over bake it.
From the surface remove the raisins that are burned since they are bitter.
Finishing (approximate quantities):
100 g melted butter
50 g sugar
50 g powder sugar
For finishing, there are more options available.
While the Stollen is still warm, coat it with melted butter, sugar and powder sugar at last.
Let the Stollen cool down overnight. The next day, coat it with melted butter, sugar and powder sugar.
While the Stollen is still warm, coat it with one layer of melted butter and one of powder sugar. Let it cool down then coat it with another layer of melted butter and powder sugar. For this option, replace the sugar with powder sugar since only powder sugar is used.
It doesn't really matter which option you chose. Make sure that the Stollen is properly coated so it can last longer, without getting a rancid taste.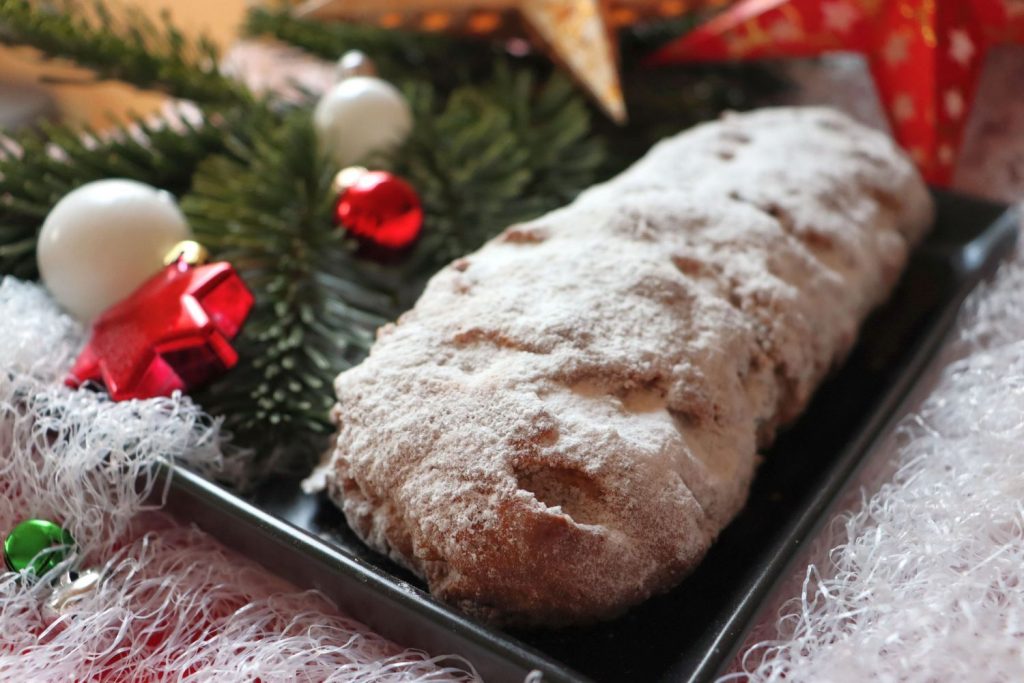 Store the cold Stollen in aluminium foil, in a cool place. You should keep it for at least 2 weeks before cutting it so that it's soft and slightly moist inside. You may also want to try out a fresh one: there are people who prefer it freshly baked. It can be easily stored for up to 4 months in proper conditions. My longest record was a little over one year in the cellar and it was still tasty.
Here is a freshly cut one. It didn't last the day.