Bear's Garlic or Wild Garlic Pesto (Bärlauch-Pesto)
Every spring the wild garlic or bear's garlic (Bärlauch), how it's called in Germany, delights the taste buds of all garlic lovers. The taste, even though not so intense as normal garlic, is quite delicate and savory, and used in a lot of dishes. In Germany you can find wild garlic/bear's garlic/ramsons in the forests or you can buy it in the supermarkets. You can also plant it in the garden or in a pot, on the balcony. Just make sure you don't mix it up with Lily of the Valley since it's poisonous. The easiest way to check if you have the right plant is to crush a leaf and see if it smells garlicky. Just to be on the safe side, though, don't plant one next to the other. Ever.
This year I harvested most of my bear garlic plants and made pesto. It's very easy to make, lasts quite some time if properly preserved and it's delicious. I like to make mine with hard cheese and nuts. It's perfect for a fast pasta dish.
Ingredients for 7 jars a 190 g (6.7 oz):
500 g wild garlic/bear's garlic/ramsons (Bärlauch)
500 ml olive oil or any other neutral oil (ex.: rapeseed, sunflower) + some extra to cover the top
250g pecorino (or any other hard cheese like parmesan, for example)
250 g nuts (I used walnuts, you can use pine nuts, cashew, almonds etc.)
salt, pepper (optional)
The best time to harvest wild garlic is before it blooms. You can also use it after it blooms but the garlic taste is not going to be as intense. You can also eat the blossoms or use them for making wild garlic blossoms oil or pickle them. From the leaves, you can also make wild garlic butter or wild garlic vegan pesto (just leave the cheese and, eventually, the nuts, out). There are several recipes for making wild garlic pesto and you can adjust the ingredients as you please, to fit your taste.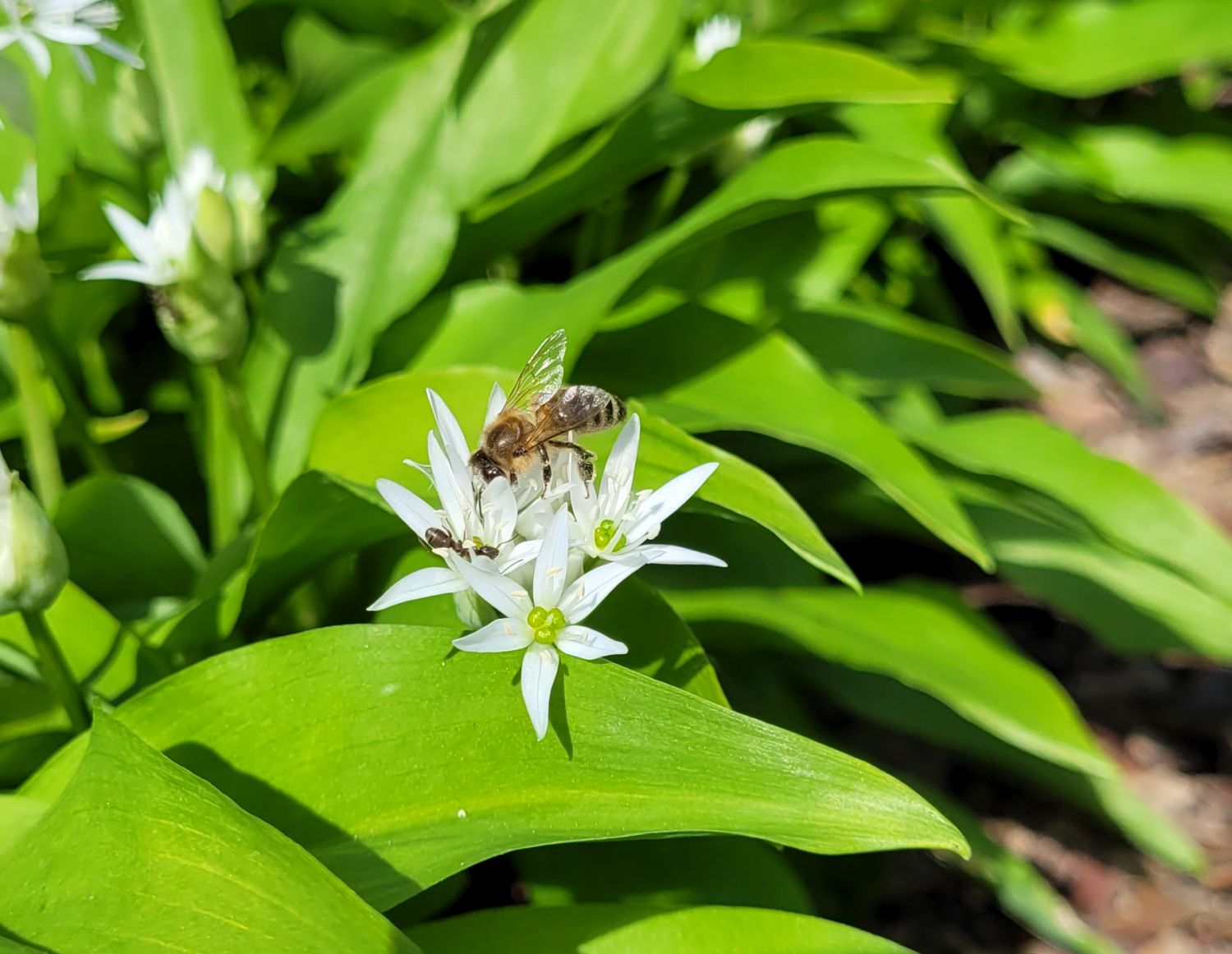 Wash the leaves of the wild garlic and let them dry on a kitchen towel, to get rid of the excess water.
Roast the nuts lightly to get a better flavor. Be careful not to burn them.

Grind the nuts with some of the oil. Make sure to not over grind them if you have a powerful food processor. If you don't have a food processor, hand mixer or any tool to grind them, you can put the nuts in a zip-lock bag and crush them with a dough roller. They don't have to be very fine.
Add the cheese cut in cubes and continue grinding. You can also grate it before (or buy it already grated) to fasten the process.
Add the wild garlic leaves in small batches and grind them gently. I don't recommend using a smoothie maker because they tend to not be so powerful and the leaves get tangled in the knives. I got better results with a hand mixer.
Put the pesto in jars, cover it with oil and keep it in a dark cold place. It can easily hold 3 months if not opened. After you open it, add another layer of oil on top and keep it in the fridge.

I got 6 jars a 220ml (7.4 oz), plus something extra for the dinner that night: pasta with wild garlic and salmon. In Germany, usually, the pesto jars are about 190 g (6.7 oz) and are sufficient for making pasta for 4 adults.